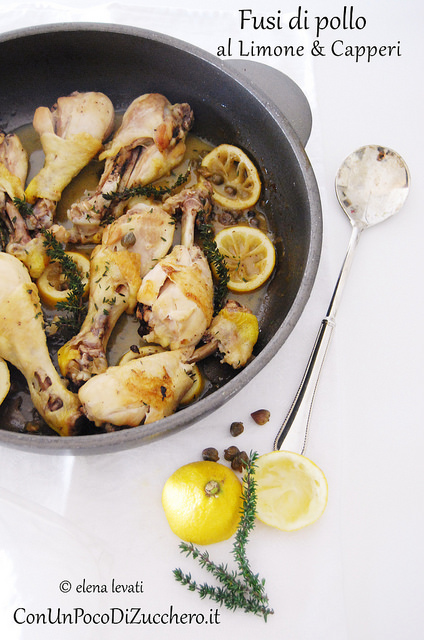 Ingredients for 4 people:

8 chicken drumsticks
2 lemons
1 glass of white wine
1 handful capers in sea salt La Nicchia Pantelleria
200 ml broth
extra virgin-olive oil La Nicchia
5 juniper berries
salt and pepper.


Preparation:

Singe the chicken drumsticks, then wash them under running water and dry them well.

Do warm up 1 tbs of oil in a large skillet and brown the chicken drumsticks very well on each side for 10 minutes. Add salt and pepper.

Add the juice of 1 lemon and the white wine. Add also the other lemon cut into slices, capers, juniper berries and a ladle of warm broth.

Cover with the lid and cook on medium flame for 30-40 minutes turning them 2 or 3 times and sprinkle them with the cooking sauce. Add more broth if necessary. Serve hot!
- Con un poco di zucchero -