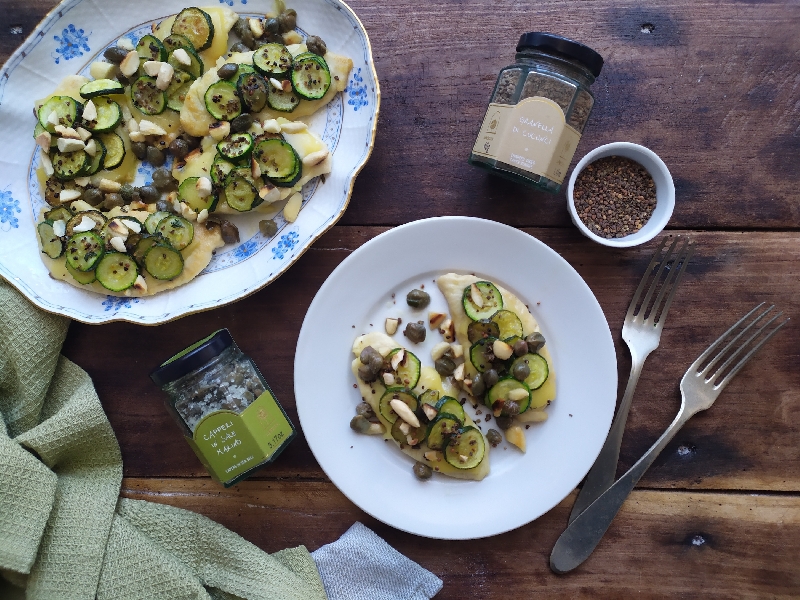 Ingredients for 4 people:
8 slices of chicken about 600g
4 small courgettes
80 g of smoked caciocavallo
40 g of peeled almonds
40 g of capers in medium-sized salt
1 teaspoon of cucunci grains
½ glass of white wine
Garlic and thyme
White flour to taste
Extra virgin olive oil
Salt and pepper

Execution:
Soak the capers, coarsely chop the almonds and cut the courgettes into rings.
Lightly beat the chicken slices, protecting them with a sheet of parchment paper, so as not to tear the meat.
In a pan, lightly toast the almonds without seasoning, pour them into a bowl and let them cool, pour a drizzle of oil into the pan with a clove of garlic, deprived of the core and brown it, remove it and add the courgettes.
Cook them over medium heat, at the end season them with salt and pepper and perfume them with the peeled thyme, then transfer them to a bowl.
Pour a little oil back into the pan, heat it slightly and add the floured chicken escalopes, once they are well browned on both sides blend them with the wine, let the alcoholic part evaporate, season with salt and pepper, then add the well rinsed and dried capers and stuff each chicken escalope first with the cheese cut into thin slices and then with the zucchini sprinkle with the chopped cucunci and almonds and continue cooking for a few minutes in a covered pan so that the cheese begins to melt, remove from heat and serve immediately.
- Gianfranco Allari -