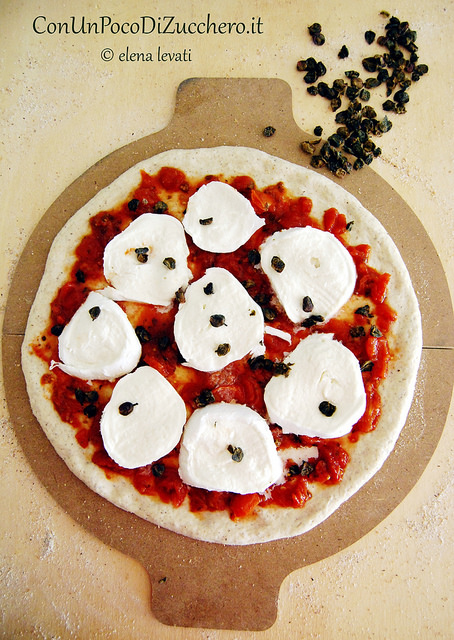 Ingredients for 2 pizzas:
Dough:
250 gr flour (type Manitoba),
100 gr durum wheat flour
50 gr buckwheat flour
1 gr brewer's yeast
240 gr lukewarm water
10 gr salt.
Filling:
300 gr buffalo mozzarella
150 gr peeled tomatoes
2 tablespoon crispy capers La Nicchia Pantelleria
extra virgin olive oil La Nicchia
salt and pepper
nutmeg.
Preparation:
The day before at 6 pm: dissolve the brewer's yeast in water then put it in the kneader and add flour and salt: knead for 10 minutes obtaining a elastic, smooth and homogeneous dough. Make a ball with the dough, put it in a oiled bowl, cover with foil and put in the fridge for 24 hours.
The day after, at 6 pm remove the dough from the fridge, divide it in 2 pats of the same weight (approximately 320 g each) and let it sit covered with a bowl for 1-2 hours.
Prepare the filling: finely chop peeled tomatoes and cook them for 5 minutes in a pan with a little oil, salt, pepper and nutmeg. Slice the buffalo mozzarella and place it on a plate to lose excess water.
At 7.30 roll out the dough in 2 discs, fill them with tomatoes, buffalo mozzarella and crispy capers. Bake according to your oven.
- Con un poco di zucchero -