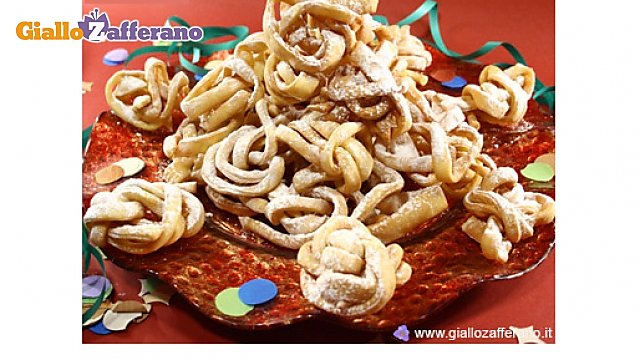 Put the flour, eggs, salt, granulated sugar, vanilla essence, melted butter and Passito di Pantelleria wine in a bowl (or a board); mix well until you have a smooth, homogenous and pliable dough.


Divide the dough into three parts, take one part and cover the other two with a dish towel. Roll the dough with a rolling pin down to a thin sheet then use a smooth cutter wheel to cut it into 1.5 cm-wide tagliatelle-like ribbons.
Heat some cooking oil (preferably peanut oil) in a frying pan.


Take two tagliatelle ribbons and gently twirl them around your fingers to make a nest shape then place it into the hot (not boiling) oil so that it is completely immersed. When it turns golden remove from the pan, allow the excess oil to drain on a rack (or paper towel) then arrange it on a platter and dust with powdered sugar.
Proceed in the same way with the rest of the dough.
- Admin -